Andrew Carnegie Success Story
Andrew Carnegie was born on November 25, 1835, in Dunfermline, Scotland. After moving to the United States, he worked a series of railroad jobs. By 1889 he owned Carnegie Steel Corporation, the largest of its kind in the world. In 1901 he sold his business and dedicated his time to expanding his philanthropic work, including the establishment of Carnegie-Mellon University in 1904.
Dunfermline Scotland town was a town at the center of the linen industry, and Andrew's father was a weaver, a profession the young Carnegie was expected to follow. But the industrial revolution that would later make Carnegie the richest man in the world, destroyed the weavers' craft. When the steam-powered looms came to Dunfermline in 1847 hundreds of hand loom weavers became expendable. Andrew's mother went to work to support the family, opening a small grocery shop and mending shoes.
"I began to learn what poverty meant," Andrew would later write. "It was burnt into my heart then that my father had to beg for work. And then and there came the resolve that I would cure that when I got to be a man."
Andrew's mother, fearing for the survival of her family, pushed the family to leave the poverty of Scotland for the possibilities in America. She borrowed 20 pounds she needed to pay the fare for the Atlantic passage and in 1848 the Carnegies joined two of Margaret's sisters in Pittsburgh, then a sooty city that was the iron-manufacturing center of the country.
At the age of 13, Carnegie came to the United States with his family. They settled in Allegheny, Pennsylvania, and Carnegie went to work in a factory, earning $1.20 a week. The next year he found a job as a telegraph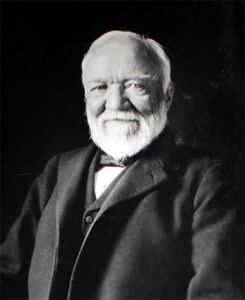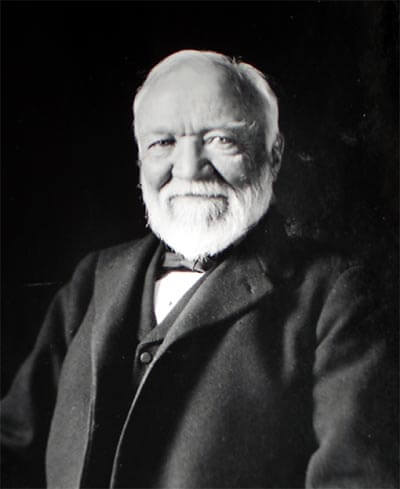 messenger. Hoping to advance his career, he moved up to a telegraph operator position in 1851.
One of the men Carnegie met at the telegraph office was Thomas A. Scott, then beginning his impressive career at Pennsylvania Railroad. Scott was taken by the young worker and referred to him as "my boy Andy," hiring him as his private secretary and personal telegrapher at $35 a month. (Carnegie reflected in his memoirs, "I couldn't imagine what I could ever do with so much money.") Through this experience, he learned about the railroad industry and about business in general. Three years later, Carnegie was promoted to superintendent. At the outbreak of the Civil War, Scott was hired to supervise military transportation for the North and Carnegie worked as his right hand man.
The Civil War fueled the iron industry, and by the time the war was over, Carnegie saw the potential in the field and resigned from Pennsylvania Railroad. It was one of many bold moves that would typify Carnegie's life in industry and earn him his fortune. He then turned his attention to the Keystone Bridge Company, which worked to replace wooden bridges with stronger iron ones. In three years he had an annual income of $50,000.
While working for the railroad, Carnegie began making investments. He made many wise choices and found that his investments, especially those in oil, brought in substantial returns. He left the railroad in 1865 to focus on his other business interests, including the Keystone Bridge Company.
By the next decade, most of Carnegie's time was dedicated to the steel industry. His business, which became known as the Carnegie Steel Company, revolutionized steel production in the United States. Carnegie built plants around the country, using technology and methods that made manufacturing steel easier, faster and more productive. For every step of the process, he owned exactly what he needed: the raw materials, ships and railroads for transporting the goods, and even coal fields to fuel the steel furnaces. This start-to-finish strategy helped Carnegie become the dominant force in the industry and an exceedingly wealthy man.
Fond of saying that "the man who dies rich dies disgraced," Carnegie then turned his attention to giving away his fortune. He abhorred charity, and instead put his money to use helping others help themselves. In 1901, Carnegie made a dramatic change in his life. He sold his business to the United States Steel Corporation, started by legendary financier J.P. Morgan. The sale earned him more than $200 million. At the age of 65, Carnegie decided to spend the rest of his days helping others. While he had begun his philanthropic work years earlier by building libraries and making donations, Carnegie expanded his efforts in the early 20th century.
Although he had little formal education, Carnegie grew up in a family that believed in the importance of books and learning. Carnegie, an avid reader for much of his life, donated approximately $5 million to the New York Public Library so that the library could open several branches in 1901. Devoted to learning, he established the Carnegie Institute of Technology in Pittsburgh, which is now known as Carnegie-Mellon University in 1904. The next year, he created the Carnegie Foundation for the Advancement of Teaching in 1905. With his strong interest to peace, he formed the Carnegie Endowment for International Peace in 1910. He made numerous other donations, and it is said that more than 2,800 libraries were opened with his support.
Carnegie also enjoyed traveling and meeting and entertaining leading figures in many fields. He was friends with Matthew Arnold, Mark Twain, William Gladstone, and Theodore Roosevelt. Carnegie also wrote several books and numerous articles. His 1889 article "Wealth" outlined his view that those with great wealth must be socially responsible and use their assets to help others. This was later published as the 1900 book The Gospel of Wealth.
Sources: biography.com, pbs.org